From Seed to Lawn: Part 4
- Milorganite Agronomist
November 17, 2018
The Adventures of One Homeowner
Experiences and lessons learned from starting a new lawn from seed
The extreme weather conditions were brutal! BRUTAL!!!
It seems like the weather has been against me since I started my new lawn last fall Well, not me personally, but it hasn't been providing my newly seeded lawn the nurturing conditions I had hoped for. It's experiencing conditions that are making it struggle.
Could my lawn please get just a little support from Mother Nature? Just a little?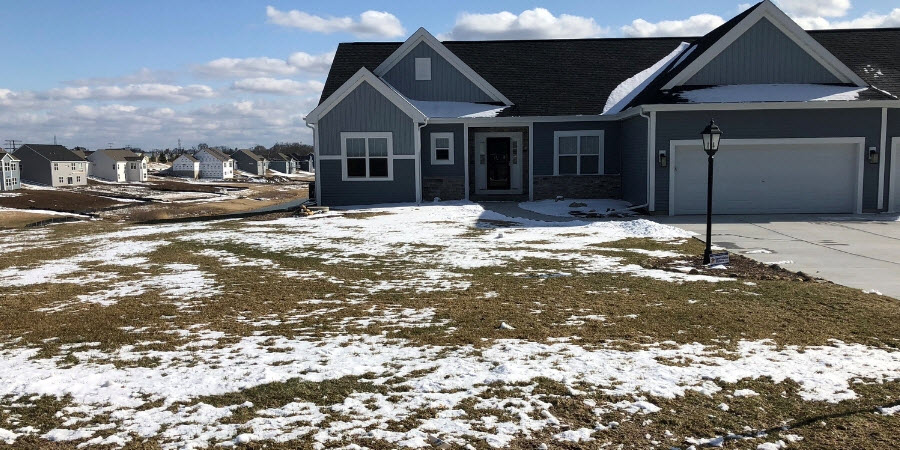 We really didn't have much of a spring in Southeastern Wisconsin. It was too cold. Then it was too hot. In mid-April, we had 3" of snow. The lawn was already out of dormancy, so it damaged the tender leaf blades. Then the temps climbed to over 90F, then tons of rain before we slipped into cold weather, and then back to temps over 90F and a dry spell. When you compare the actual spring temperatures to the averages, it generally followed the trend, but with a pattern of so many above-average highs and below-average lows, it looks like a heart monitor. Not the usual mild weather we look forward to after a long, cold winter.
Weather plays a significant role in the success of growing a new lawn from seed, especially the typical warm days and cool nights of spring, as well as in fall, which is the best time of year to take back your lawn and get it into shape.
I recently talked with someone from a lawn care company. He told me that this was the worst spring and summer growing seasons in Wisconsin he's seen in his 30-year career! He told me there couldn't have had a worse year for my lawn. Weather around the country wasn't any better. *sigh*
Weather, Poor Fertility, Lawn Diseases
I haven't been able to build up the fertility of the soil with only a handful of fertilizer applications, which included Milorganite. The lack of fertility and the stress of the weather created the environment for rust to develop. I didn't treat it knowing it would grow out when the drought was over.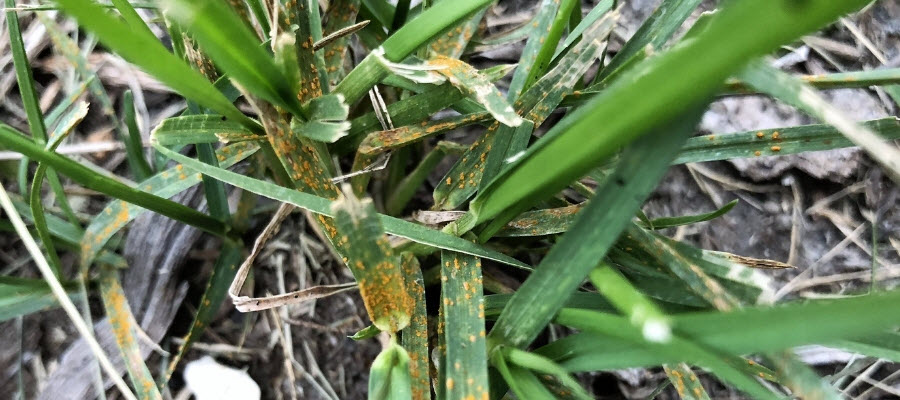 The week of the Fourth of July, when weather conditions were very hot and very dry, another disease popped up—dollar spot. Dollar spot develops in opposite weather extremes, too dry or too wet. I didn't treat for dollar spot either. I let it grow out on its own. Sticking to a regular fertilization schedule using Milorganite will help the lawn overcome and, in time, help to prevent both rust and dollar spot.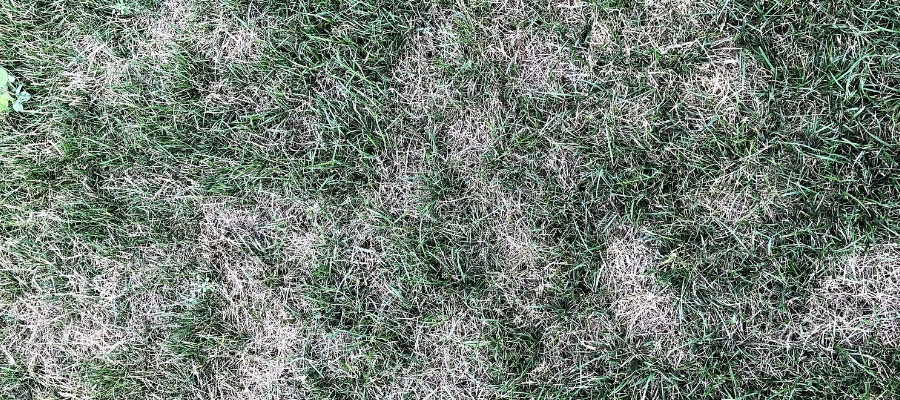 The weeds are out of control!
Weeds. Lots and lots of them popped up in the lawn. Here's the chain of events that lead to my weed-infested lawn:
I didn't treat for weeds in spring, because I was going to overseed.
Despite the uncooperative weather, I overseeded. I was hopeful, but it didn't take well, because of the extreme weather fluctuations. So, the lawn remained thin.
Weed seeds love thin lawns; there's plenty of exposure to soil and sun, without competition from grass.
The result? WEEDS!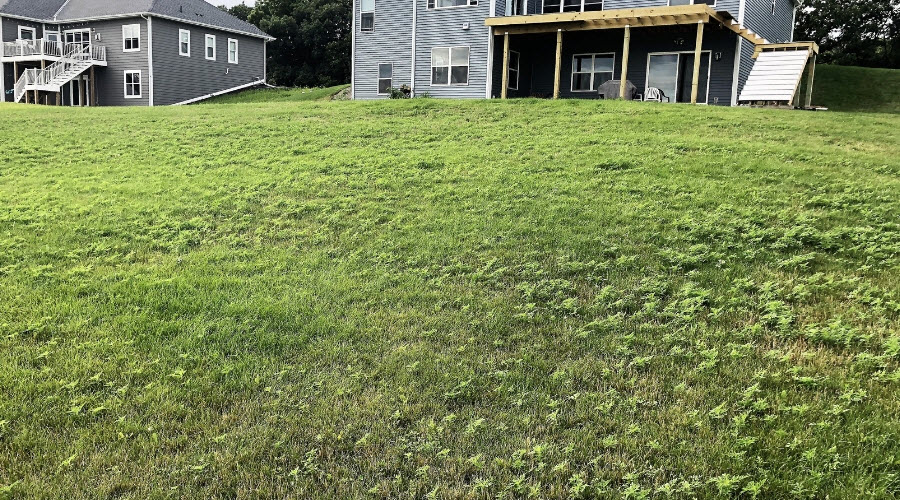 As much as I hate the idea of using herbicides, I decided to hire a lawn service to treat for weeds in mid-August during a few cool days before the temps jumped back into the 90s.
Labor Day weekend I put down an application of Milorganite. In mid-September, six weeks after the herbicide was applied, I overseeded again with Kentucky bluegrass and applied a starter fertilizer at the same time, which kicked in within a few days. Shortly after that, the Milorganite I put down started to provide nutrients for the long haul. I was extremely diligent in watering—lugging those miserable hoses again—to make sure the seed really took. Bluegrass takes 21–36 days to germinate, so I'm waiting to see how well it comes up. I said a little prayer that the weather would cooperate this time.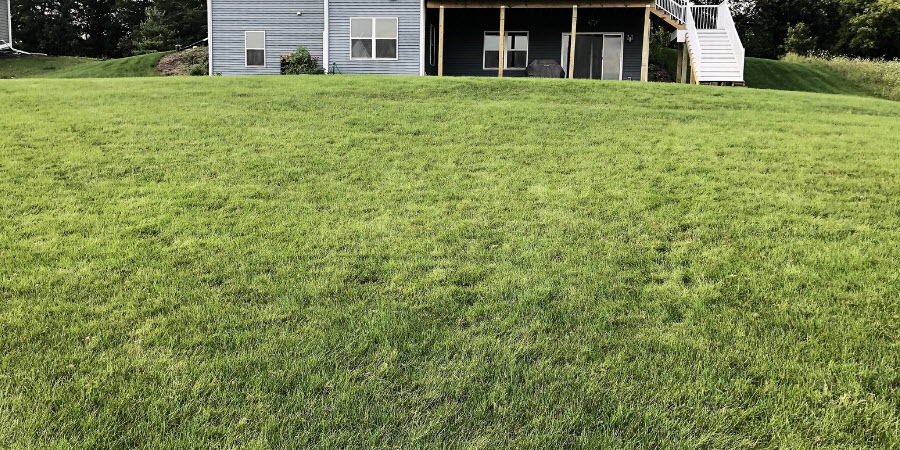 The prayers must have worked! The end of September finally brought perfect weather for the lawn—lower temperatures and lots of rain. Within only a few days, the lawn thickened-up incredibly. I had really good results from the August weed treatment. It got rid of about 75% of the weeds with some crabgrass and clover still hanging on. I'll reevaluate the extent of the weeds in spring and decide if another herbicide treatment is necessary.
I'll do a dormant fertilization with Milorganite around Thanksgiving.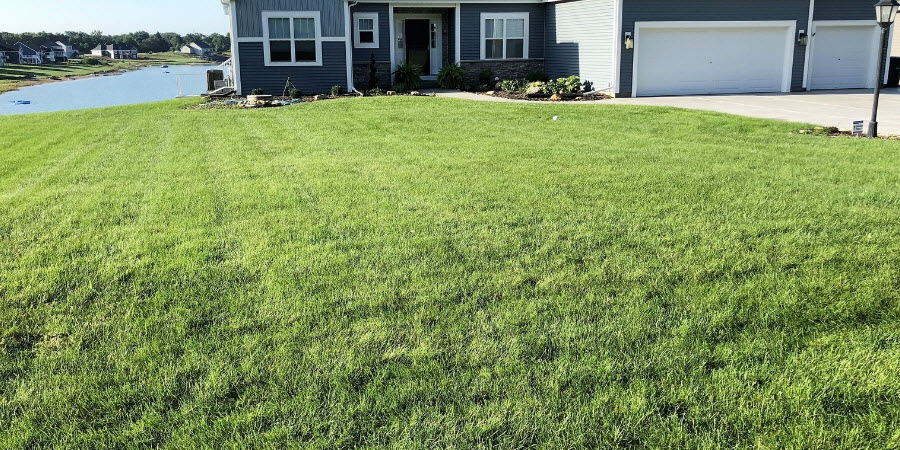 Summary
My experience starting a new lawn from seed hasn't gone the way I had expected. It's been a rollercoaster! Growing conditions were terrible from the start of the project and only recently improved. How could anyone anticipate that we'd have the worst possible weather for stating a new lawn?
I was frustrated, but I didn't lose hope. The lawn had rust. I wasn't concerned. The lawn had dollar spot. I wasn't concerned. There were more weeds than grass. I wasn't concerned about any of it. I thought the lawn was going to enter winter dormancy with little more than roots and weeds. Then the lawn finally got the weather it so desperately needed.
I knew things would eventually turn around.
Right now, the lawn looks pretty darn amazing! It's thick and green, and soft enough to walk on barefoot, but it's not perfect. That's okay. As I said, I'm not obsessed with having a perfect lawn. I want a lawn my family can use and enjoy.