Milorganite® 2021 Shortage Update
Here's Why the Demand for Milorganite is Outpacing Production.
Customer demand for Milorganite has outpaced production again this season and it's understandable that customers are frustrated if they can't find their favorite fertilizer. Unfortunately, the supply-and-demand model doesn't apply to Milorganite.
It can be confusing that the supply-and-demand model doesn't apply to Milorganite. It's the model we're all used to demand increases, so production increases. But that's not the case with Milorganite.
Decades ago, there were more industries in the area that produced large volumes of wastewater, including several breweries and a yeast manufacturer. Many of them left the area taking their valuable "raw material" with them. Fewer water-based industries and less wastewater equal less Milorganite.
There's only a finite amount of raw material available that's processed into Milorganite. Although more than 45,000 tons of Milorganite will be produced this season—about three million bags—and it still continues to fall short of customer demand.
Beneficial Reuse is our Mission
The Metropolitan Milwaukee Sewerage District (MMSD), the producer of Milorganite, doesn't make a profit by producing, marketing, selling, or distributing Milorganite.
Milorganite, a low-nitrogen, iron-rich fertilizer, is a byproduct of MMSD fulfilling its mission to ensure clean and safe water in the Greater Milwaukee region. Recycling nutrient-rich wastewater into Milorganite is better and more cost-effective than dumping these nutrients into a landfill. It would be a monumental waste of tons of nutrients that could be converted into fertilizer with taxpayers paying the bill for disposal. Producing Milorganite saves tax dollars.
Retailers Control the Price, Not Milorganite
Milorganite is only sold wholesale, not directly to customers, and retailers set the price, not Milorganite. The wholesale cost of Milorganite has been stable for several years, with increases of less than 2% annually. The wholesale price this year is the same as it was in 2020.
Some retailers are taking advantage of the current demand for Milorganite by increasing the price. They're applying the supply-and-demand model on the retail level.
One way to ensure you're getting the best price is to take advantage of big-box stores that offer price matching. Often you just need to bring in your receipt, ad, printout, or photo of the lower-priced product. Check price-matching requirements on the retailer's website.
If you're unhappy with the price set by a retailer for Milorganite, please contact corporate directly via the company's website.
Finding Milorganite
Use our store locator to help you find retailers in your area that sell Milorganite. The store locator does not indicate which retailers have Milorganite in stock. After identifying a retailer in your area, we suggest you check their website and call ahead to see if they have Milorganite in stock.
If you find Milorganite, please only purchase what you need and leave some for other Milorganite customers. We don't want a run on the remaining Milorganite like there was on toilet paper last year!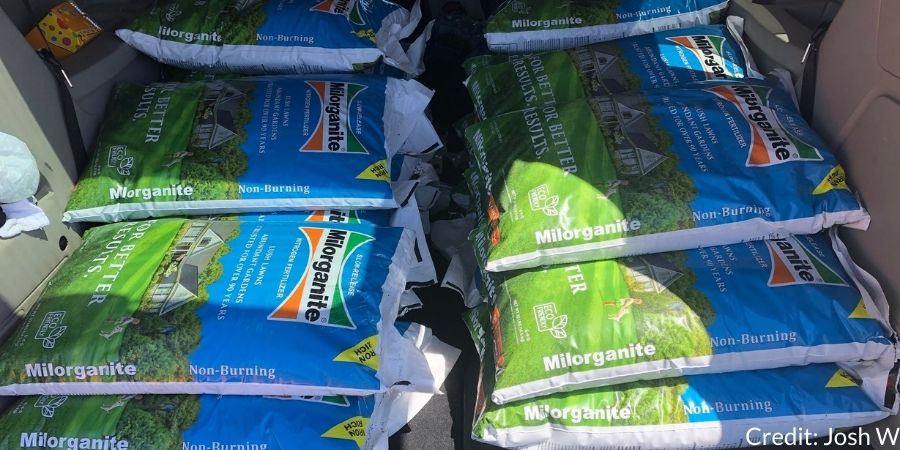 Exploring Opportunities to get More Product on Store Shelves
Milorganite believes in the beneficial reuse of biosolids. Applying its quality standards, Milorganite has been actively reviewing the products of other biosolid producers.
The long-term solution is to find a product that most closely matches Milorganite's quality standards and nutrient analysis. This alternative product would be distributed to fill the gap when demand for Milorganite outpaces supply.
We understand that you're frustrated when you can't find Milorganite on the shelves, we're frustrated too! We want nothing more than to make our customers happy. Therefore, the Milorganite team remains dedicated to finding a solution to fill this gap in the marketplace. Thank you for being a faithful Milorganite customer!