From Seed to Lawn: Fall 2019 Update - Dealing With Lawn Disease
- Milorganite Agronomist
September 28, 2019
The Adventures of One Homeowner
Experiences and lessons learned from starting a new lawn from seed
I was so excited to start my new lawn from seed a few years ago. I'm still excited, but it's now tempered by the practical need to protect my investment. I'm really not a fanatic about having a perfect lawn, but it cost far more than I had expected.
Last summer the weather was either too wet and hot or really dry and hot. The turf was stressed. My lawn had a mix of dollar spot and brown patch. I wasn't too worried, because there wasn't a lot of it, but it was enough that there were a few small bare patches that required overseeding.
This past spring the lawn came in very nicely. It looked good. But in July, we had exactly the same crummy weather we had last year and the lawn was again stressed. The same issues popped up throughout the lawn, but it was more widespread than last year. There were spots that went from brown to grey to dead.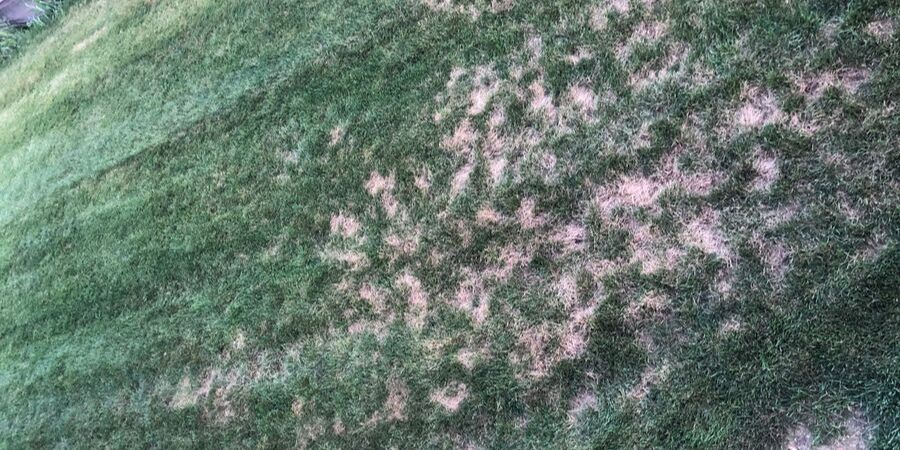 I noticed a lot of brown patches and suspected a fungus was the culprit. I'm not one to overreact when I see something may be wrong with the lawn, so I didn't treat. I knew it was a fungus, but couldn't identify exactly which kind. I explored under the areas of dead grass and didn't see what I expected to.
Did My Grass Seed Blend Cause Lawn Fungus?
I questioned whether part of the fungus problem was due to the grass mix I used when I started the lawn, which was a blend of rye, fescue and bluegrass varieties—mostly bluegrass. It's a typical blend for the north and the mix our landscaper recommended. Just like different grass varieties have different qualities and requirements, some are more susceptible to specific diseases and maintenance practices.
I had never started a new lawn from seed. I had always lived in older homes and inherited existing lawns, which usually had several grass varieties, not predominantly bluegrass. I had never really considered the specific grass varieties when maintaining existing lawns.
I was planning to aerate and overseed with bluegrass this fall. I needed to know if one of the grass varieties was prone to whatever fungus was present before overseeding.
Dead Turf Samples Sent for Diagnosis
I was finally curious enough to find out what was causing the patches of dead grass.
I sent turf samples from the infected areas to the Turfgrass Diagnostic Lab (TDL) at the University of Wisconsin–Madison, which provides "…accurate diagnostic information and management recommendations for all turf health issues." The TDL services are available to turfgrass managers and homeowners, including those living outside of Wisconsin. Following the recommended process, I packed the samples in ice, included some photographs of the problem areas and overnighted the package. The cost was $20 per sample.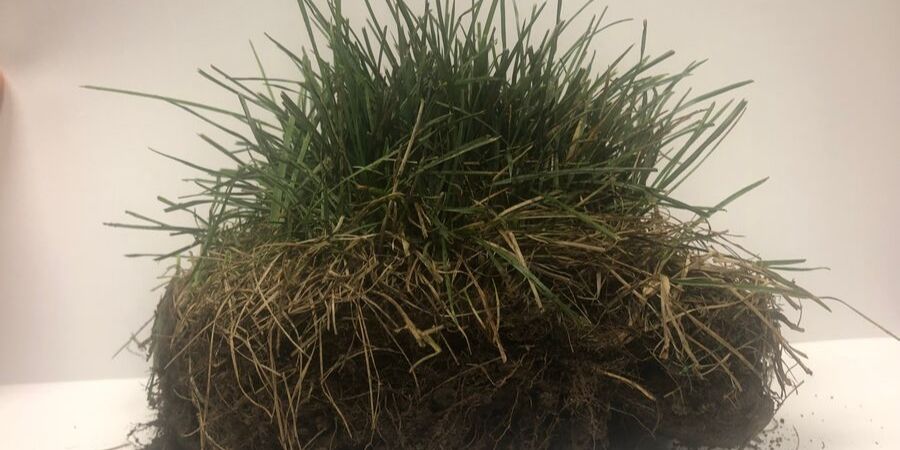 Based on the samples and photographs the lab results indicated one of two diseases, summer spot or necrotic ring spot. Although it's very difficult to distinguish them from each other, treatment is very similar and fungicides aren't recommended. Bipolaris leaf spot was also identified through the photos and analyzing under a microscope the dark lesions found on some of the leaf blades.
The TDL provided information on the diseases and maintenance practices to help alleviate the problem, including cutting height, watering, aeration and fertilization, among others.
Fertilizer applications at the wrong time, during less than favorable growing conditions, can in certain situations make lawns more susceptible to these and other diseases.
It's a new lawn on a new property, so the nutrients in the soil needed to be built up. Right? Earlier in the season, the lawn was showing signs of low nitrogen stress, rust to be exact, so over the course of the year I applied two applications of Milorganite, as well as two applications of starter fertilizer.
Unfortunately, while the additional nitrogen applications helped to alleviate one stress, it created another by pushing the lawn to grow too quickly. While attempting to correct one problem, I had inadvertently created another.
Aerate, Overseed and Stick to Milorganite's Fertilization Schedule!
The weather was gorgeous the last week of August. It was less humid and cooler, with some days in the mid-70s and evenings as low as the 50s. The cooler days of fall were returning.
The first week of September I had the lawn aerated to improve root health. The day after the lawn was aerated the humid weather returned and temperatures climbed back into the high 80s! I thought, "Great! Now the roots are going to dry out!" Thankfully, the heat didn't last more than a few days. I overseeded with the same seed I originally seeded the lawn with shortly after aerating.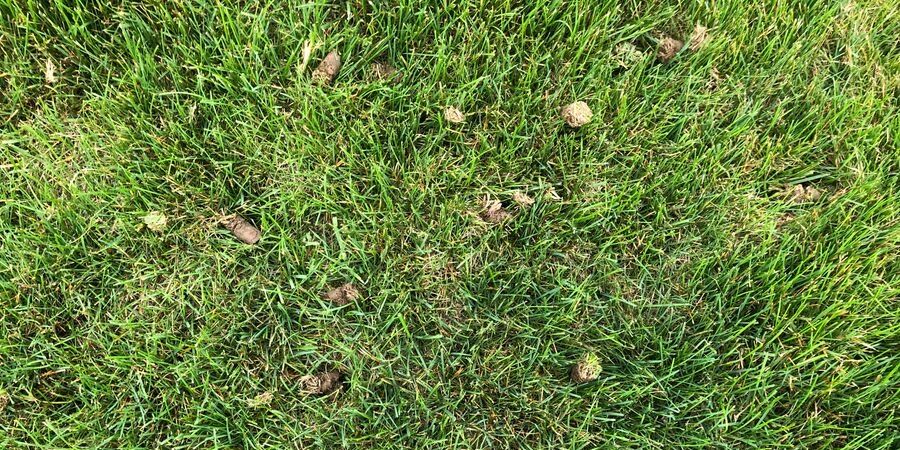 The lawn responded to the aeration and overseeding extremely well. Here we are, just over 2 weeks later with no signs of disease and no bare patches. Temperatures have begun to drop, our nights have been getting cooler, we received some timely rain that really allowed that seed to pop and the lawn is once again thriving. I'll apply a dormant feeding of Milorganite in November, which will feed the lawn in spring when the temperature begins to warm up and the turf needs the nutrients.
New lawns can be tricky, early in the season the lawn was showing signs of lack of fertility-rust, clover, leaf blade discoloration. These signs all pointed to lack of nitrogen. Unfortunately, the combination of less than ideal growing conditions and the addition of some extra nitrogen at the wrong time forced growth too fast during a stressful time. Next year, as far are fertilizer applications go, I'm sticking to the four applications of Milorganite! We'll see how the lawn responds to that!
Although I stand on my lawn and see every little brown patch, my neighbors continue to compliment me on how good the lawn looks. I'll keep listening to them.