Grow a Nutritious Garden in a Pot
- horticulturist and gardening expert
April 26, 2022
Keep garden fresh vegetables and herbs close at hand by growing a few in containers on your balcony, deck, patio, or front steps. You don't need much space and you'll enjoy the convenience of stepping out the door and picking nutritious veggies and herbs for your favorite snack or recipe.
All you need is some potting mix, fertilizer, plants, and a container with drainage holes. A fifteen to twenty-four-inch diameter pot or twenty-four to thirty-six-inch long window box is a good starting size.
Fill the container with a well-drained potting mix. Read the label on the potting mix bag. Add Milorganite, a slow-release fertilizer, at planting for better results with less effort. It provides small amounts of nutrients over a long period of time and eliminates the need to mix and water in fertilizer throughout the growing season. Sprinkle the recommended amount of Milorganite for the pot size and work it into the top inch of potting mix. Reapply every 6 to 8 weeks as needed.
Now comes the fun part, selecting plants for your container garden. As always make sure the plants you select will thrive in the growing conditions. Most vegetables and herbs prefer full sun. This is especially important for those who eat the flowers or fruit, like tomatoes, broccoli, squash, and cucumbers. Root crops like radishes, beets, and carrots are more shade tolerant and greens like lettuce can grow in part shade.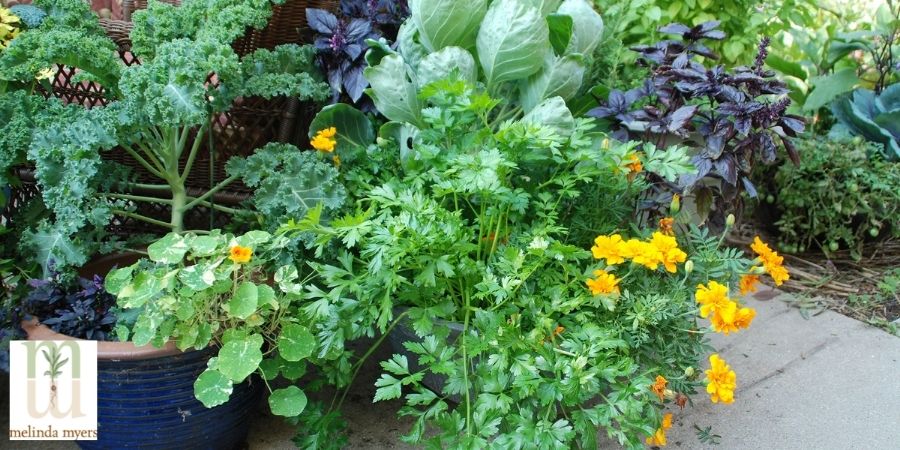 Kale, Nasturtium, Parsley, Basil, Brussels, Sprouts, Marigold
Easy Vegetables to Grow in Pots
I have grown just about every vegetable you can imagine in a container. As long as you have a big enough pot and can water and fertilize as needed you will be successful. Breeders are making it even easier and more space-efficient to grow vegetables in pots. You will find more compact yet productive varieties suited to container gardening.
Always consider growing what you like to eat and those herbs and vegetables you frequently use in your favorite recipes. Then consider those vegetables that taste best and are most nutritious when grown and served fresh from the garden.
Greens including lettuce, spinach, mustard, kale, and Swiss chard are perfect for containers. You'll ensure the best flavor and nutritional value when including freshly harvested greens in your meals. These can be grown in window boxes, elevated gardens, and pots alone or combined with flowers, herbs, and other vegetables. Most greens prefer and taste best when grown and harvested during cooler weather. Look for more heat-tolerant varieties like red sails, black seeded Simpson leaf, and Sandy leaf lettuce to keep greens growing as temperatures rise.
Salad radishes, carrots, and beets are also easy to grow in pots. Just make sure the container is deep enough to accommodate the long carrot root. Or grow shorts, half longs, or other smaller carrot varieties.
Train peas, cucumbers, or pole beans onto support when growing these in a pot. They'll need less space and the increased airflow and light through the vines reduces the risk of disease. Compact varieties like Patio pride and sugar Ann snap peas are small in stature but big in productivity.
Try compact and productive squash varieties like Astia zucchini. It is the perfect size for containers and small space gardens. The white markings on the leaves make it an attractive addition to your gardening space.
Add some color and edibility with eggplants. The flowers and fruit are colorful making this ornamental as well as edible. Patio Baby is compact and suited to container gardens. Fairy tale eggplant has purple fruit with lavender stripes while Hansel and Gretel have white and purple finger size fruit. You'll find a wide array of sizes, shapes, and colors when shopping for eggplants.
Peppers are also easy to grow in containers. Hot or sweet, it doesn't matter. Just pick the ones with the flavor and heat you prefer. Pot-o-Peno is a recent All-America Selections winner perfect for a hanging basket.
Growing Tomatoes in Pots
Whether you like them as a snack, sliced on a sandwich, or cooked into a sauce, be sure to grow one or two of your favorite tomatoes in pots. Any variety will work but compact ones are easier to manage and need less extensive support. Check the tags or catalog descriptions for the mature size and staking needed. Determinate tomatoes, including patio types, are shorter and require little or no support. Indeterminate tomatoes grow, flower, and fruit throughout the season and are quite tall. These will need large sturdy supports to keep them upright.
Tomato Plant
Plant smaller tomato varieties in 2 to 3-gallon size pots or larger. Bigger varieties will do much better in a 5-gallon or larger container. Some research suggests growing tomatoes in a pot at least 14", preferably 20" wide will yield much greater results.
You can find quite a few compact varieties perfect for containers. Patio Pride yellow cherry tomato grows 18" tall and produces up to 100 sweet yellow tomatoes. Bush types of Early Girl and Beefsteak and Window Box Roma provide all the flavor of these favorite tomatoes on much smaller plants. Early Resilience Roma tomato is a compact plant with great disease resistance and only requires minimal support.
Include a few tomatoes in hanging baskets. Once they start producing they are as pretty as a basket of flowers. Tumbling Tom, Red Robin, Lizzano and Terenzo are a few you may want to try.
Growing Potatoes in Pots
Don't let a lack of space stop you from growing potatoes. Although these are economical to buy, the flavor and fun of growing your own can't be beaten. Harvesting your own potatoes is like discovering buried treasure.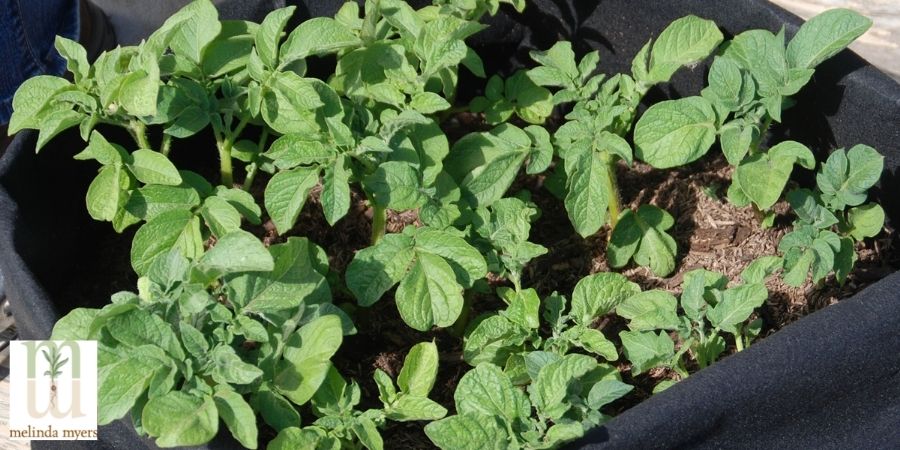 Potato Plant
Plant them in a grow bag or large container. Fill the bottom 3to 4 inches of the bag or pot with potting mix and add Milorganite. Cut the larger seed potatoes (actually a tuber) into smaller pieces making sure there is at least one bud per section. Plant one seed potato per 3 gallons of soil. Set the seed potatoes on the mix. Cover with several inches of soil. When plants are bout 8" tall cover with 3" of soil. Continue adding soil as plants grow until they grow bag or container are filled with soil.
Water thoroughly as needed and fertilize again with Milorganite about 6 to 8 weeks after planting. When the leaves begin to yellow and stems wilt it is time to harvest the potatoes. Simply dump the soil, potatoes, and all, out of the bag or pot. Sift through the soil to find the potatoes. Compost the planting mix and enjoy your harvest.
Mixing Flowers with Vegetables
Mix colorful flowers with nutritious vegetables for attractive, healthy results. Bright Lights Swiss Chard, pansies (their flowers are edible), colorful leaf lettuce, spinach, radishes, and trailing ivy make a great cool weather combination.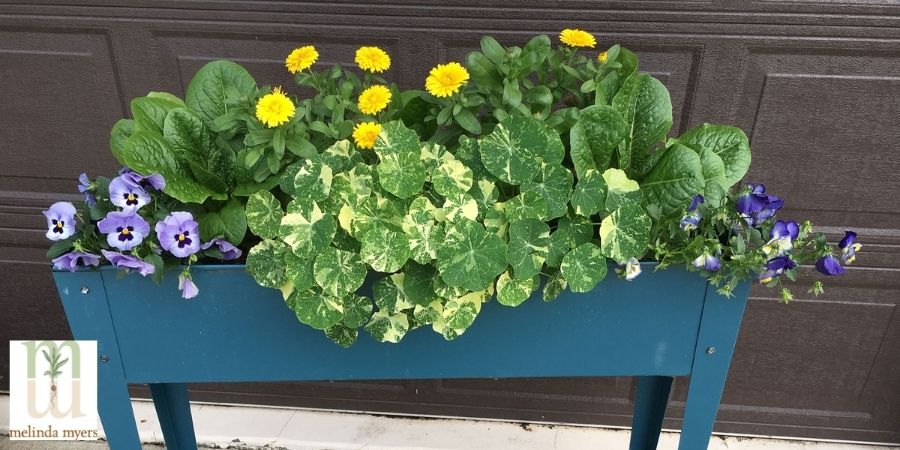 Pansy, Lettuce, Calendula, Nasturtium
For summer, use a tomato, pepper, eggplant, peas, beans, and cucumbers trained on a trellis. All are packed full of nutrients and make a great vertical accent. Surround the towering vegetables with purple basil, tri-color sage, and a colorful trailing annual like verbena, nasturtium or bidens.
Don't forget to squeeze in a few onions or garlic. The fragrant foliage can be decorative and these vegetables help lower blood sugar and cholesterol while aiding in digestion.
Watering Vegetables in Containers
No matter the size, containers need more frequent watering than in-ground gardens to grow and flourish. This may have stopped you in the past, from growing vegetables in pots. Reduce time spent watering with a few simple strategies.
Grow herbs and vegetables in bigger containers that hold more plants and moisture longer. This means you will be watering less often. Use self-watering pots that have a water reservoir at the bottom and release water for the plants as the soil dries. These containers allow busy gardeners and travelers to grow plants in containers by extending the time between watering.
Or make watering easier by using drip irrigation. You can assemble your own or purchase one of the container garden watering systems. Set the watering tubes in place and with a turn of the faucet your plants are watered. Occasionally check to make sure chipmunks, squirrels and birds have not knocked the watering tubes out of the pots.
Check soil moisture in the containers daily and water thoroughly or fill the reservoir as needed. As plants grow and temperatures rise you will need to water more frequently. When weather is cool and cloudy the soil dries out more slowly.
So be creative and add a few small-scale, attractive vegetables high in nutritional value and flavor to a variety of containers this season.