It's a Homegrown Garden Party!
- horticulturist and gardening expert
March 13, 2017
You don't need to be a gourmet cook to throw a memorable summer party; at least that's my philosophy. All you really need are a few simple dishes made from garden fresh vegetables and containers filled with edibles that your guests can harvest and enjoy with their meal or favorite beverage.
Start by growing the ingredients for your favorite recipes and beverages. Consider those, like tomatoes, that taste best fresh from the garden. My favorite dish is ratatouille. It combines all the best produce from a summer garden; tomatoes, peppers, eggplants, zucchini and onions seasoned with garlic, parsley, and basil. With all these fresh ingredients you can't go wrong.
Once you have your garden planned for your favorite entrée, consider growing containers to help enhance the experience. Grow a salad bar by filling window boxes and raised beds with greens, hot peppers, green onions and more. Start the meal with a trip to the salad bar. Just hand your guests a plate and let them create their own fresh salad.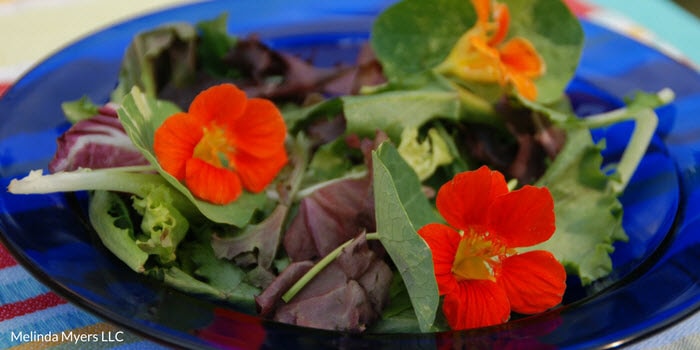 Look for other opportunities to bring the garden to the party. Dress up the table, balcony or patio with a few containers of herbs. Grow a pot of your favorite grilling herbs to harvest and use as you prepare the meal. Use small herb containers as edible centerpieces. Add a pair of garden shears to the table setting and allow your family and guests to snip and season their meal to taste.
Add a gourmet touch to the party with edible flowers. Try nasturtium and daylily blossoms stuffed with cream cheese, calendula petals sprinkled on your salad and mint leaves a top a slice of chocolate cake. Be sure to tell your guests the flowers are edible or you'll end up with a pile of flowers left on their plates.
And don't overlook the opportunity to enhance beverages. Include a few herbs and vegetables that can be blended, muddled or added to some favorite drinks. Use the hollow stems of lovage as a straw for your tomato juice or bloody Mary. You and your guests will enjoy the celery flavor this edible straw provides. Or pluck a few mint or rosemary leaves to flavor iced tea, lemonade, and mojitos.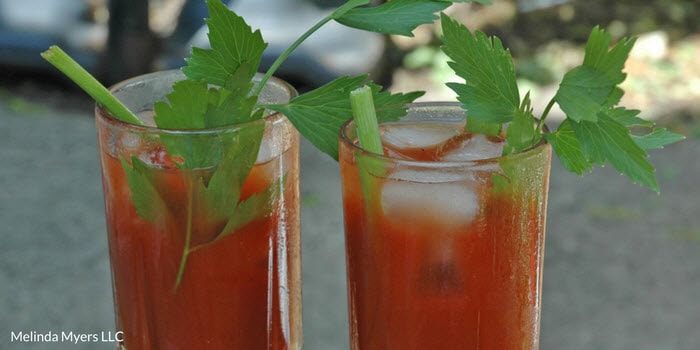 Only use vegetables and flowers that are free of pesticides, remove the bitter tasting pollen from edible flowers and you're sure to create a memorable dining experience for everyone!
But party preparation starts now. Make a list of the vegetables, herbs, and flowers you want to grow and serve at your summer gatherings. Order seeds as needed and plan a shopping trip when plants arrive in the garden center.
Get your garden off to a great start with proper soil preparation. Add several inches of organic matter such as compost to the top eight to twelve inches of soil. You'll improve drainage in clay soil and increase the water-holding ability in sandy soils. Save time by adding Milorganite, an organic nitrogen fertilizer, into the soil at the same time. This slow release fertilizer provides needed nutrients for six to eight weeks. Then give your plants a midseason boost to keep them healthy and productive.
Now focus on your containers. Select a pot with drainage holes and fill it with a quality potting mix. This is also a good time to add Milorganite. I like it because it's slow release; good for the plants. Plus, it eliminates the need to mix and fertilize weekly; good for me. All you'll need to do is give your containers a second application midseason.
Check containers daily and water thoroughly as needed. Or invest in a container irrigation system. Add a timer and you'll reduce your time spent watering.
Mulch the soil in the garden and containers with shredded leaves, evergreen needles or other organic matter. This reduces weed problems and conserves moisture. As the mulch breaks down it improves the soil for future plantings.
Keep an eye on the garden and containers and be ready to start picking and cooking as the garden starts producing. You'll get the best flavor and most nutrients from freshly harvested mature vegetables.
Then dress things up with a bouquet of your favorite garden flowers. Pick a few extras to send home with your guests and they'll have even more fond memories from your special gathering filled with homegrown flavor and beauty.