Preparing For Spring - What To Do Now In The Garden and Landscape
- Gardening Expert and Host of Growing a Greener World®
March 20, 2017
There's nothing like the kickoff of spring to motivate us to get out in the garden. Yet savvy gardeners and weekend warriors have been busy for weeks. That time after winter wanes and before the all clear date for frost-free weather is some of the best prep time of the year for any garden or landscape.
Around my house, I keep busy with a number of simple but important projects that make a noticeable difference for the rest of the season and beyond. The following projects are just a few of the tasks that keep me active and outside on those early-spring weekends.
Pruning Tree Branches:
You may not realize it, but usually the best looking trees get plenty of attention during the dormant months. The reason late winter to early spring is such a good time for annual pruning is that you are still able to see clearly into the tree canopy—before it leafs out and access becomes much more challenging. Annual vigilance to keep the canopy from becoming too crowded, removing dead, diseased, or crossing branches, and thinning out competing or inward growing branches can make a huge difference in the overall health and general appearance of any tree.
You may need to hire a Certified Arborist, but for my money, it's well worth the price. I love my trees, and the larger specimens are irreplaceable. Better to invest a little money now to keep your specimen trees healthy and looking great. For smaller trees, most homeowners using pole pruners and pruning saws, along with a decent ladder, can easily manage this task.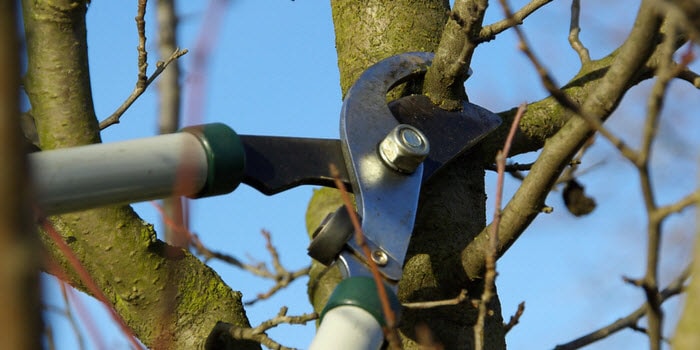 Prepping Garden Beds:
I never miss an opportunity to prep beds between the seasons of my cool season crops coming out and my warm season classics going in. The now empty beds are a breeze to access without the risk or challenge of working around and potentially damaging plants still in the ground.
Working to improve the soil right now is so important. Most of the nutrients that were in the soil since the last time you amended it are likely gone now, having been taking up by the previous plants, or decomposed or leeched away. Even the best soil that is rich in organic matter must have a steady supply of new inputs a couple times of year to replenish what has been removed or diminished. In a closed environment, like a raised garden bed, those nutrients don't just show up. You have to put them back. Fortunately it's easy to do with a one or two inch layer of compost worked into the top 6 inches. Shredded, rotted leaves, or composted wood chips work well too.
I also make a point of providing an added boost of an organic form of slow-release nitrogen, like Milorganite. Another granular nitrogen source is blood meal. I like the granular form since it stays in the soil and doesn't leach, so it's there working through the season. The organic amendments are great for continuing to build my soil and improve the structure while the nitrogen is essential for new and establishing plants. Plus, non-burning nitrogen sources like the above mean I don't have to worry about harming my tender new plants (as is often the case with synthetic options).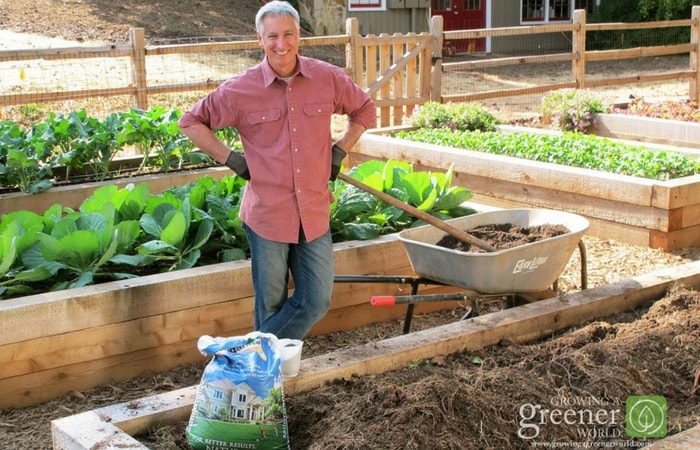 Fertilizing trees and shrubs:
Just as my new bedding plants need to get off to a good start with nutrient-rich soil, established trees and shrubs also benefit from a top dressing of organic nutrients. While I'm in fertilizer mode, I make the rounds and apply a generous amount of organic fertilizer to the root zones. Demands will be high with new growth coming on. Using early spring to put nutrients back into the soil in time for the stresses of the new season and brutal summer will pay big dividends to the sustainability and vigor of your plants and trees and overall landscape.
Weeding now for less work later:
As an organic gardener, most of my weeding is done by hand. Through the years, I've realized the sooner I catch weeds early in the season, the less problem they become overall later on. By starting in early spring and pulling what you see as you come upon them, reduces the quantity of weeds having a chance to go to seed and becoming too much to handle by summer. I keep a weeding knife in my pruning holster, which is usually by my side as I'm working around the yard. Having the right tool at the ready goes a long way to making your time in the garden and landscape more relaxing and one less thing you have to get back to later.