Grow a Smoothie Garden
- horticulturist and gardening expert
May 8, 2017
Squeezing the recommended five fruits and vegetables into our daily diets can be challenging. Busy schedules, reluctant eaters and the availability of fresh produce can dampen our enthusiasm. Make it easier and for some more palatable by blending fruits and vegetables into a tasty smoothie. Further, increase the health and nutritional benefits by growing some of the ingredients in your own garden.

My friend and agronomist for Milorganite, Jaimie, started a smoothie garden trend in her neighborhood. I thought I would pass along some growing advice and a few of her tips so you can join in on the fun.
Jaimie grows kale, spinach, Swiss chard, beets and cilantro to include in her favorite smoothie recipes. Things her three boys would not eat unless blended with fruit and made into a tasty treat. It also makes a quick and nutritious breakfast for a busy working mom.
Grow your smoothie garden in the ground or containers. Select a sunny location for best results, although, these greens will tolerate some shade. Prepare the soil prior to planting for healthier plants and a bigger harvest. Work several inches of organic matter and Milorganite into the top few inches of soil. Milorganite provides 8 to 10 weeks of nutrients. Then make a second application mid-season.
Use a quality potting mix and add Milorganite at planting. No weekly mixing and fertilizing needed. One application of Milorganite at the start and mid-season is all you need. Check soil moisture daily and water your containers thoroughly as needed.
Kale is ready to harvest in 60 to 80 days depending on the variety. Redbor, Lacinato and Dwarf Blue Curled Vates are pretty and edible varieties. I like to mix them with my flowers. Kale thrives and has the best flavor in the cooler temperatures of spring and fall. A bit of mid-day shade will help these plants tolerate warmer summer temperatures.
Look for some of the newer and ornamental varieties of Swiss chard. Bright Lights, Flamingo Pink and Vulcan add color and texture to the garden. The colorful plants and fun names may also encourage your family to help grow and eat this plant.
Make regular plantings of cilantro throughout the season. This cool weather herb quickly goes to seed as the temperatures rise. Frequent plantings will keep you in greens all summer long. But save the edible seeds, known as coriander, for other favorite recipes.
Grow extra vegetables to freeze and use when the garden season has ended. Or if space is limited, visit your local farmers market, purchase your favorite smoothie ingredients when in season and freeze the extras.
Here are a few tips and recipes from Jaime. She removes the stems of the kale and Swiss chard and uses both the greens and colorful roots of the beets. Try adding the greens to the water first, blend well and then add in the rest of the ingredients.
Her go to recipe is a mixture of 2 large handfuls of greens, 1 cup frozen berries, ½ frozen banana and 1 cup of water or coconut water. Add more liquid to create the desired consistency. You can also add hemp or flax seeds. Pour your smoothie into a mason jar and away you go.
Or make a smoothie bowl instead. Just add more banana for a thicker consistency, pour into a bowl, add berries, granola, and other favorites. Her boys love them and they have one every morning.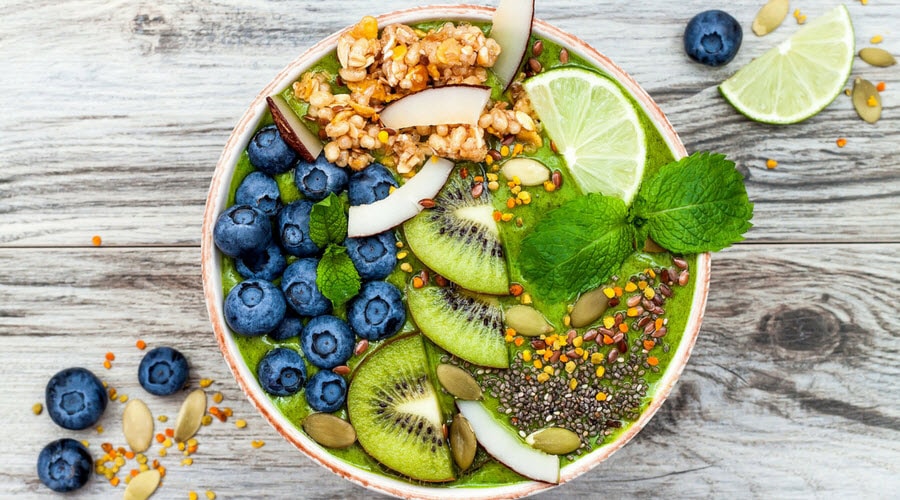 Start each day with a walk to harvest a few of your favorite smoothie ingredients. Then whip up a tasty and nutritious treat to fuel you for the day ahead.