Sustainable Plastic Use in the Garden and Landscape
- Gardening Expert and Host of Growing a Greener World®
August 24, 2019
A garden provides many benefits in our environment. Green spaces we plant and tend in urban areas create islands of habitat for beneficial creatures. Landscaping slows the movement of water to reduce runoff and erosion. Plants and trees of all varieties help to offset greenhouse gases and produce cleaner air. Not to mention, the many benefits of growing our own food.
Yet, the products we purchase for our garden can also create negative unintended consequences. I'm not talking about synthetic chemicals. I've covered that in other blogs and podcasts. Today, I'm referring to plastics.
More often than not, garden products - like so many items we buy - are encased in plastic. Tools, plant pots, bagged compost and mulch, fertilizer and treatment products - plastic is everywhere in the garden industry. Add that to all the other plastics brought into our household, and it's easy to see how these materials make up over 26 million tons of our landfill waste in a single year.
Once out of sight in a landfill, plastics are quickly out of mind. However, their negative impact will ripple across generations to come. There are a number of different chemical compositions of plastics used in our modern society. Most of these materials take hundreds of years to break down or never break down at all.
Sadly, it's not uncommon that plastic products make their way out of the landfill and into our waterways, threatening wildlife populations. In short, plastic is a big problem in our environment.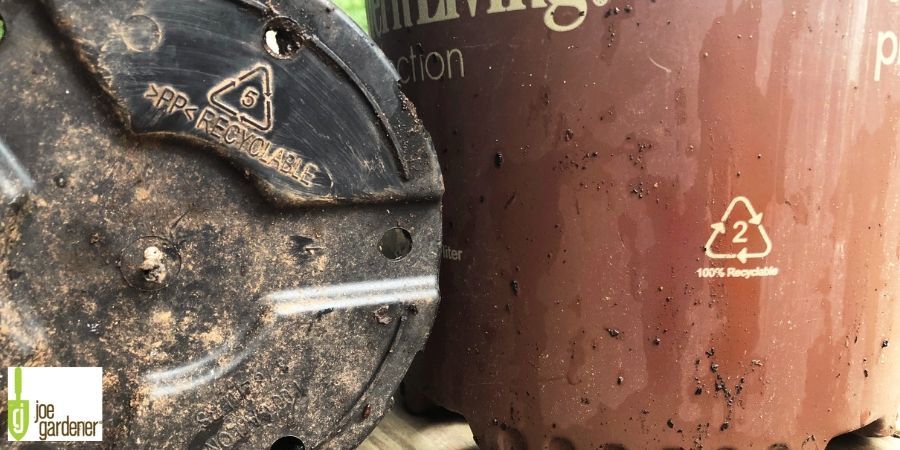 Check the Recycling Number
If you're like me, you make efforts to recycle whenever possible. That's an important step, but the recycling industry is moving away from accepting some common plastic products. Like all things, there is a market for recycled products which rises and falls continually. When the value of plastics fall, many items - like plastic nursery pots - are rejected by recycling plants because they aren't a cost-effective process.
So as you bring plastic products into your home and landscape, be a thoughtful consumer. For example, always look for the logo which indicates a plastic package is recyclable. Become familiar with the meaning behind common recycling markers, like number references.
When it comes to garden products, there are four types of plastic used most often:
High-density Polyethylene – Usually marked with the recycling label 2.
Low-density Polyethylene - Usually marked with the recycling label 4.
Polypropylene – Usually marked with the recycling indicator 5.
Polystyrene – This is most commonly used for seedling trays and lightweight, rigid packaging. It's difficult to mark some of these products with a recycle indicator, but if you find a recycling indicator of 6, it's polystyrene.
Not all polyethylene, polypropylene or other plastics are marked with a number. Even when a package is marked, you might need to really look carefully to find it. At a minimum, a package should include the basic recycling logo. If it doesn't include that mark, it's probably not recyclable.
Identifying the indicator number whenever possible is important because some recycling facilities require that you sort by number or won't accept certain plastics identified by number.
Have you ever dropped off recycling and seen someone disregarding the sort requirements and just throwing everything in together? We all lead busy lives, but that carelessness adds significantly to the cost a facility invests in recycling the products they accept.
Someone in the facility must sort through materials by hand because different plastic materials can't be processed together. It's a tedious process and one reason recycling programs are being reduced or becoming extinct.
I featured the recycling process of plastic nursery pots in an episode of my show Growing a Greener World® and in a podcast episode. You would probably be surprised at the laborious steps necessary to turn these items into a reusable material.
As a thoughtful consumer, the time you take to sort the products you bring to a facility will keep costs down and encourage your local recycler to continue accepting these materials.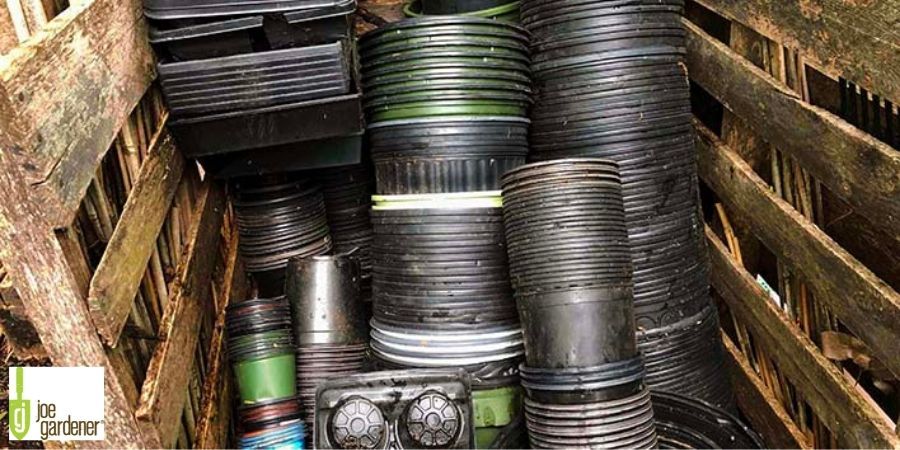 Reduce and Reuse
There are three R's when it comes to reducing plastic waste, and the first two are actually the most important - reduce and reuse. By finding ways to reduce the amount of plastic we bring home and, then, reuse what we inevitably acquire; there will be less recycling necessary and less waste from what isn't processed.
The first step in reduction is to look for non-plastic options when you buy. In the garden for example - consider buying soil, compost, and mulch in bulk rather than in bags. Those plastic bags add up quickly, and buying in bulk is often significantly less expensive overall. Bulk isn't always an option, but I encourage you to look for those opportunities.
Consider bare-root or bagged plants over potted options when you are adding to your landscape. Healthy bare-root trees and shrubs can outgrow a containerized specimen in many cases because the pot restricts root growth.
Some companies in the gardening industry are more environmentally-sensitive to the impact of plastic, so they are finding better ways to package. There are now nursery pots made out of rice hulls, recycled paper, and even bamboo. Those materials are all organic and compostable. No sorting or landfill space necessary.
When buying tools and other small products, opt for the options not encased in plastic. If there aren't any non-plastic options, look for the recycling information on the package. Milorganite® fertilizer is one example. It's been my fertilizer of choice for years at my GardenFarm, but I also love knowing their fertilizer is one of the nation's oldest recycling programs and the bags are also recyclable, which supports the whole recycling industry.
When you purchase these eco-friendly options, you are voting with your dollar. Our spending habits cause others in the horticultural industry to sit up and take notice, reinforcing their motivation to provide environmentally-conscious offerings.
All that said, plastics will make their way into our garden. It's nearly inevitable in today's world. However, we can find creative ways to reuse and repurpose some of those items.
Plastic nursery pots are a great example. They can be repurposed as you propagate new plants. They're also ideal for storing or carrying mulch, compost, and soil as you work around the landscape. I like to keep a pot or two stashed out of site in different locations around the GardenFarm, so I always have a weeding bucket close at hand.
I focused an entire blog around smart ways to give nursery pots new life. I hope you'll check out those ideas. They will help you in the garden, but most importantly, it will keep them out of the landfill.
Large plastic bags can also be repurposed as we garden. (Depending on what they held, it's a good idea to rinse them out first.) Bags work well for carrying garden debris, too, or as temporary plant protection from an overnight frost. I've even seen them woven into a creative plant pot. That's really what it's all about - finding creative ways to reuse our plastics.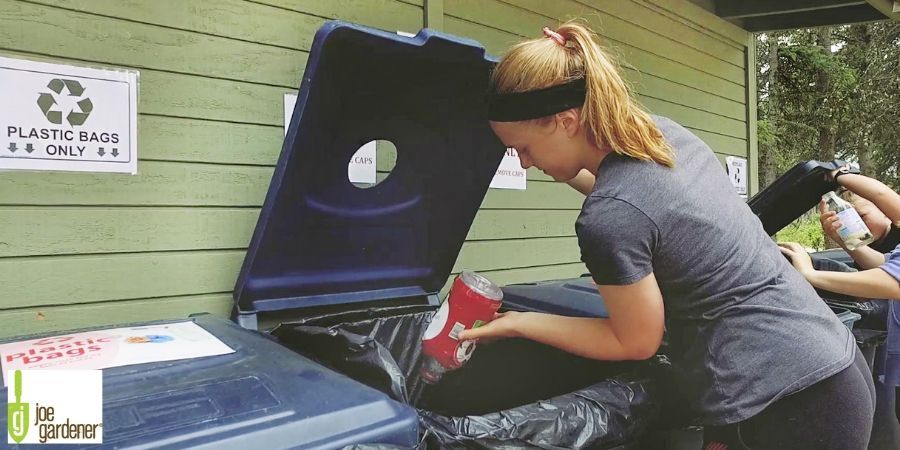 Recycling
When you can't repurpose it or give it away to someone else who will, I encourage you to make every effort to recycle it. Become familiar with your local recycling facilities. If you don't know where to look, check out plasticfilmrecycling.org which lists drop off locations across the U.S. and Canada.
Sort your items before you drop them off and encourage your friends and neighbors to do the same. If you can make the time, offer to take their plastics to a drop off facility for them. It's a small step that can add up to big change.
There is one more "R" which is perhaps the most important - refuse. Look for opportunities to refuse to allow new (or even recyclable) waste into your home or garden when there's a more environmentally-responsible option. It's the same concept as bringing your own bags when you shop at the grocery store. But when you take that idea and apply it to the rest of your purchases and acquisitions, you'll be amazed at the difference it - and you - can make.