Milorganite's Commitment to Protecting Water Quality
August 28, 2020
"Water quality is one of the main challenges that societies will face during the 21st century, threatening human health, limiting food production, reducing ecosystem functions, and hindering economic growth," according to UNESCO International Initiative on Water Quality. Poor water quality can also impact property values, livelihoods, and recreation.
August is National Water Quality Month. The Milwaukee Metropolitan Sewerage District (District) which manufactures and markets Milorganite, continues to take a leadership role in protecting water quality through its environmental stewardship by addressing, as well as identifying and preventing, problems before they begin.
Almost a Century of Environmental Stewardship
June of 2020 marks the start of 95 years of wastewater reclamation at the District's Jones Island facilities. Milwaukee was one of the first cities in the US to utilize the Activated Sludge process as a means of effectively treating sewage from homes and a growing industrial base. Nutrients are diverted from landfills and recycled into the slow-release nitrogen fertilizer we continue to use today.
This revolutionized wastewater treatment and is the reason we produce Milorganite fertilizer, along with a need to continue to fund infrastructure that helps protect water quality in the Greater Milwaukee area.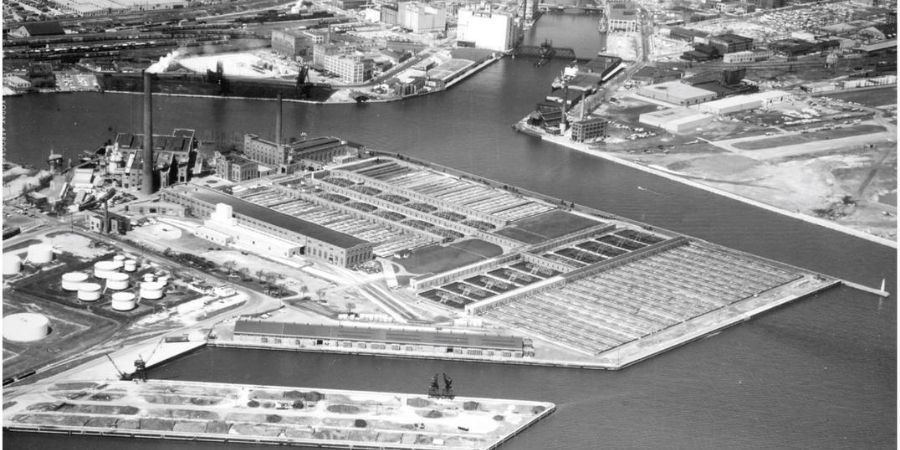 Jones Island Water Reclamation Facility in 1962
The District has been widely recognized for its environmental and wastewater treatment efforts. It has been awarded the U.S. Water Prize by the U.S. Water Alliance for its "holistic approach to water management works on a watershed level and is a 'one water' model." It has also been recognized as a Leading Utility of the World, by Global Water Intelligence and the Utility of the Future, Today, awarded by the National Association of Clean Water Agencies.
Teams of MMSD Professionals Monitoring, Protecting Water Quality
The "scientific detectives" of the District's Water Quality Protection Team, through its ongoing testing and monitoring, works to protect and improve the water quality of Lake Michigan, as well as the rivers and watersheds within its service area.
The Team collects and analyzes more than 150,000 water samples annually from our waterways, water reclamation facilities, and sewers. As a result, MMSD has one of Wisconsin's most comprehensive Lake Michigan and river-water quality databases.
Their work helps to provide early detection of potential problems, such as industrial pollution and illegal dumping. They also help to assess the benefits of investments made in wastewater treatment, storage, and sewer system improvements and provide information to make informed decisions for future efforts.
The District has been monitoring surface-water quality for more than 40 years to create healthy aquatic environments that protect Lake Michigan area waterways.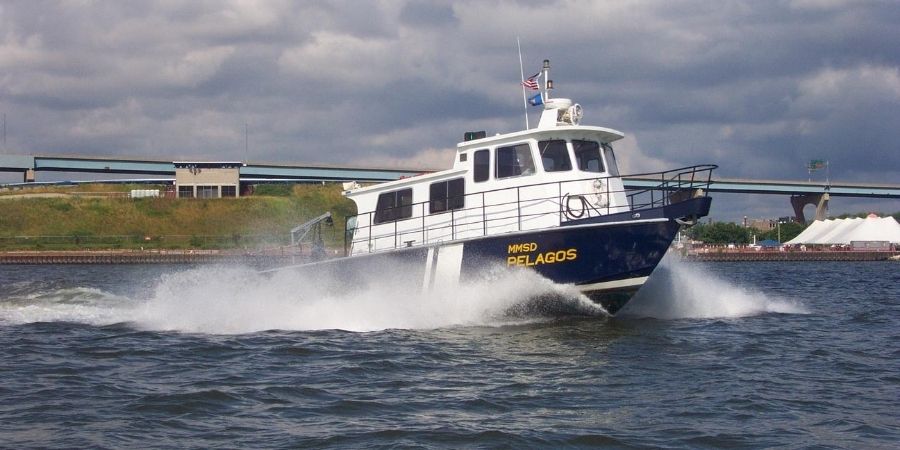 MMSD's Research Vessel, the Pelagos
The Water Quality Protection Team has five working groups:
Central Laboratory: scientific professionals who analyze and report on water samples.
Industrial Waste Pretreatment: monitors and enforces single-source pollution programs, including pretreatment, and mercury reduction.
Systems Monitoring/Conveyance: analyzes monitoring and sampling data, conveyance systems, groundwater, and storm water programs, as well as regulatory reporting.
Water Quality Research: monitors the water quality of local watersheds.
Field Monitoring: samples and collects data to enhance the District's database of water quality information. The group also supports industrial Waste Engineers, Conveyance, Water Quality Research groups, and Technical Services construction programs.
MMSD Freshwater Resources Monitoring Program
Those implementing the District's Freshwater Resources Monitoring Program routinely monitor surface-water quality at nearly 100 sites within the Milwaukee River, Menomonee River, Kinnickinnic River, and Oak Creek/Root River Watersheds, as well as Milwaukee's harbor. Samples are taken once or twice each month and analyzed at the District's in-house laboratory for more than 40 parameters. More than 60,000 data points are collected annually.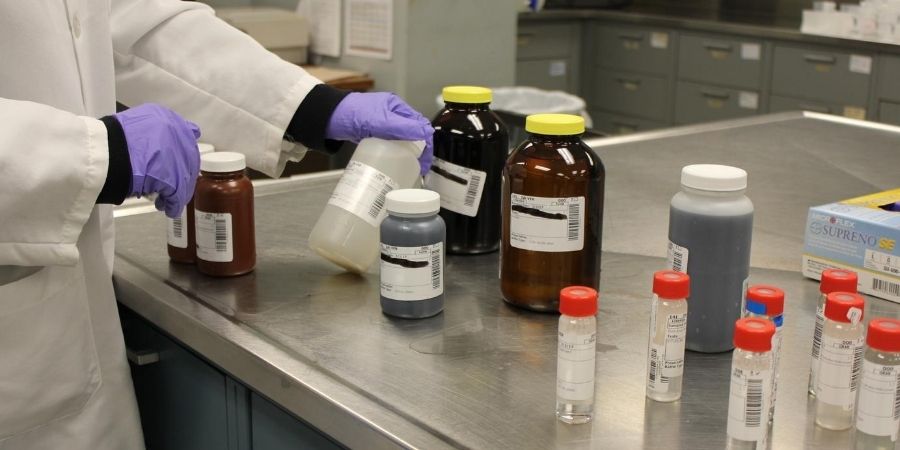 MMSD Water Quality Testing
2020 Water Quality Initiative
The 2020 Water Quality Initiative started in 2002 with a partnership between the Milwaukee Metropolitan Sewerage District, Wisconsin Department of Natural Resources, and the Southeastern Wisconsin Regional Planning Commission. The combined efforts of these organizations create a holistic approach to assess water resources within the Greater Milwaukee Watersheds.
The goal of the 2020 Water Quality Initiative was to "achieve the highest level of water quality improvement in the most cost-effective manner while meeting MMSD's regulatory requirements." The resulting 2020 Facilities Plan evaluates facilities, programs, operational improvements, and policies necessary to meet the 2020 requirements, as well as recommendations for investments and improvements needed to reach target levels of protection for sanitary sewer overflows and treatment.
Reducing Nutrient Pollution Runoff
Nutrient runoff of nitrogen and phosphorus is a costly, global problem, according to both the United Nations and the Environmental Protection Agency (EPA).
Although plants require nutrients to grow, too much from agriculture and residential sources contributes to fish kills, algae blooms, and bad odors, and unappealing ponds, lakes, and streams.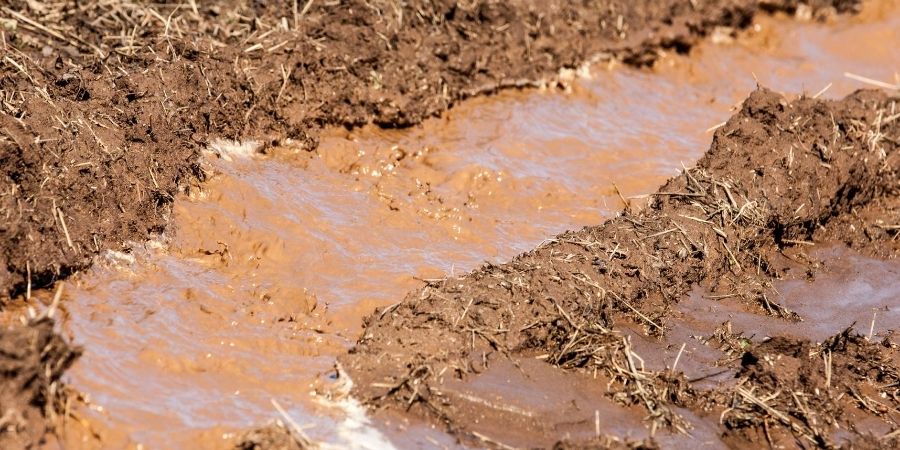 Agricultural Runoff
Rain, improper watering and fertilization practices, as well as saturated soil, can all contribute to runoff. The excess water then flows to bodies of water carrying with it any number of pollutants, such as oil, fertilizer, salts, and harmful bacteria.
Water Quality Starts at Home: What Residents Can Do to Help
How we maintain our yards and gardens can directly impact water quality.
It's important to fertilize your lawn at the "proper amount, at the right time with the right method," according to the EPA. Although addressing agricultural practices, the same holds true for yards and gardens.
Fertilize lawns when grass is actively growing. For cool-season grasses, this is early spring through early summer and again in fall. Warm-season grasses are actively growing from late-spring to about mid-summer. Don't fertilize within 10 feet of waterways.
Choose a slow-release, nitrogen fertilizer, such as Milorganite, to help reduce nutrient runoff. Research has demonstrated that, when compared to other phosphorus sources, the insoluble, recycled phosphorus in Milorganite is far less likely to leach into waterways, because it's released at a rate plants can use. Milorganite complies with all federal and local phosphorus regulations.
Watering practices also impact runoff. Water lawns deeply and infrequently early in the morning. Use a drip hose in your garden to reduce runoff.
Leave lawn clippings in place to decompose and return nutrients back to the soil. Dispose of pet waste properly. Disposing of either in sewers adds to nutrient pollution. For a healthy lawn, this fall, add a few lawn care practices to help rejuvenate your lawn from the summer heat and drought.