How to Tell if Your Milorganite® is Fake or Real
- "The Lawn Care Nut"
July 2, 2022
It's summer and you are probably looking for a slow-release, non-burning fertilizer to keep things moving without pushing too much growth in the heat. Milorganite® is perfect for that.
Dial it in at 10lbs per 1,000 sq ft and you get .6 lbs of Nitrogen. That's a little over ½ lb which is perfect for summer for any grass type.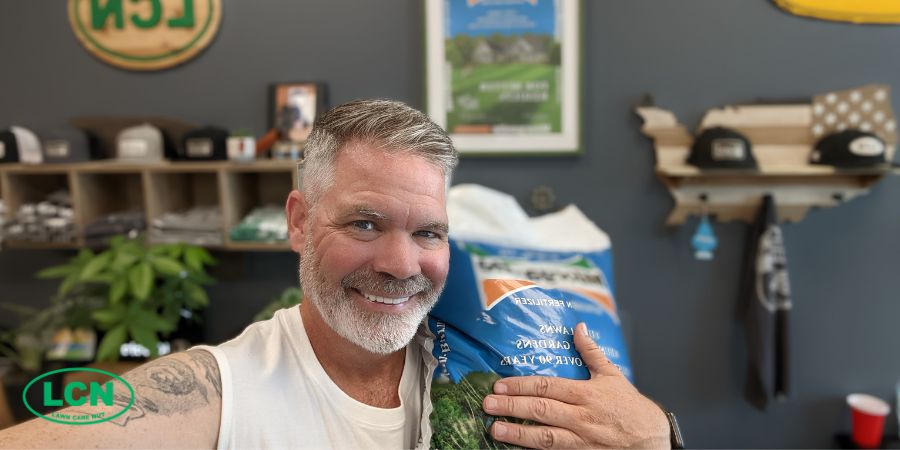 I get this math from the analysis on the bag, 6-4-0. Those are the numbers you see on the bag and they refer to three primary macronutrients plants need:
Nitrogen
Phosphorous
Potassium
Nitrogen is what makes grass green and aids most in photosynthesis and growth. Phosphorous is all about roots. Dense, deep, roots. And potassium is the supporter of both. It helps with water retention and stress reduction.
Additionally, Milorganite® is fortified with 2.5% iron. Iron is a micronutrient and I like it most because it gives lawns a deeper, darker blue-green color. You'll find very few fertilizers on store shelves with this much iron included, especially in the form of a homogenous prill.
Can You Spot The Milorganite® Fake?
Now as you can imagine, with the popularity of Milorganite®, there have been a lot of imposters popping up on store shelves. Some of them are more creative in their attempts to grab market share and some of them are quite creative.
Now, let me caveat this by saying that there are no actual "imposters" here, fertilizer is fertilizer and your plants don't know if they are getting authentic Milwaukee brewed Milo or a fake. I'm just having fun here for sure, but there are some things you should know about these fakes before spending your hard-earned money on a lesser bag of success.
Here is a fake I found on a local store shelf in that video I talk about the quickest way to spot a fake and that is to look at the "derived from" statement on the back label, usually right above or below the guaranteed analysis box.
What is a biosolid? Biosolids are residual microbes that have digested nutrients out of sewage waste streams. The United States Environmental Protection Agency (EPA) regulates biosolids using two tiers: tier one allows non-food use and tier two, the Exceptional Quality designation, allows use on vegetables and fruits and is given to biosolids with minuscule amounts of heavy metals and pathogens. Milorganite® has consistently received an Exceptional Quality designation from the EPA since the guidelines were created in 1993.
Here is the label from a bag of Milorganite®. You can see I have it circled there. If you do not see this on the bag you are looking at, you are getting nothing that is even close to the makeup of Milo and I doubt you could expect to see the same visual result either.
So the quickest way to spot the fake is to look for the term "bio-solids." But what if the fake is made from bio-solids, then does that automatically mean it's the same thing?
Let's dig deeper into the world of fake Milo and look at the label from an imposter I found here in Florida. I'm not showing the names for obvious reasons, this is all in good fun, but for sure look at this little shenanigan, they play with their bag sizes trying to come in cheaper. Authentic Milorganite® is currently 32lbs. The imposter is light at only 30 lbs. Sneaky!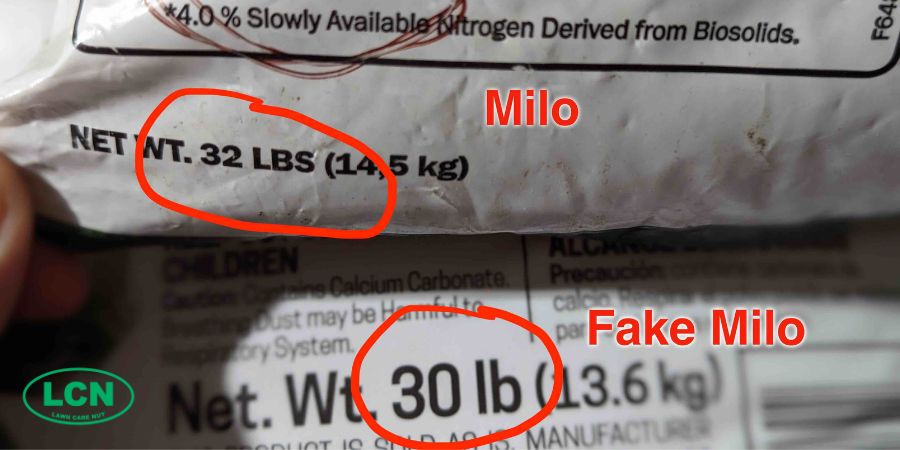 And that isn't the only place they sometimes show up light! Here is a fake that is only delivering a 5-3-0 with 2% iron. This is light all around when compared directly to Milo's 6-4-0 with 2.5% iron.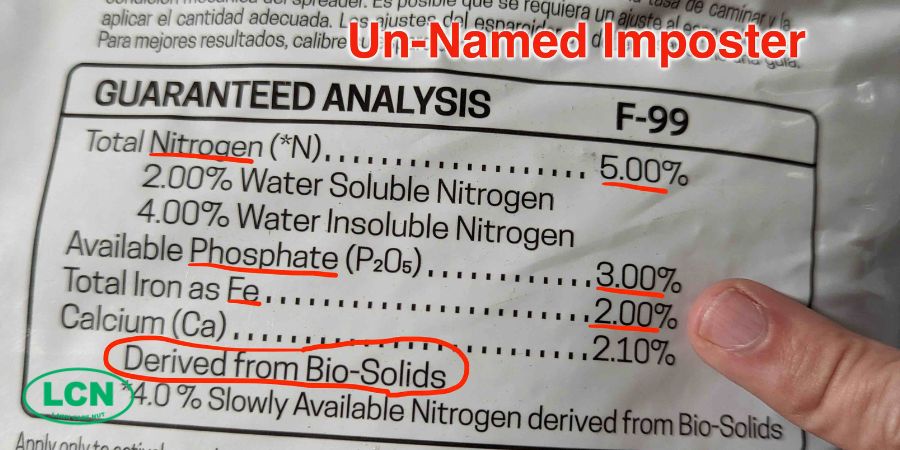 Seems this imposter needs to find a more potent suburb from which to draw its success. Good thing you are now armed with the knowledge to be able to separate the original from the fake. It was bad enough when it started happening in the world of luxury watches and purses, and for sure it's a sad day when that type of tomfoolery has made its way to the lawn care space, but here we are.
When all else fails and you forget to read the label, the one thing I can promise you about the fakes out there is that none of them can duplicate that smell of success that can only come from Milwaukee's original.
I've tested every fake in stores from Florida to Indiana and everywhere in between and have yet to find an imposter that measures up. So this summer when you go to throw down, don't settle for the fake. Instead, get the original that never fails and is proudly manufactured in Milwaukee, Wisconsin, and always brings the smell of success!
I'll see you in the lawn! - Al