Summer Lawn Care for Beginners
- Milorganite Agronomist
June 26, 2021
Lawn maintenance for beginners shouldn't be a struggle—it's a learning experience. Here are the most important summer lawn maintenance tips for beginners. I've included both what should be done, as well as why it's important to the health of your lawn.
Matthew of Abington, Pennsylvania, quickly learned that he was going to get the best results by learning about lawn care and doing the work himself to achieve the lawn he wants for his family. "We had lawn care service for about four years with little to no results. I started watching your content just before our COVID-19 stay-at-home time, which inspired me to cancel my lawn care service and get to know my turf."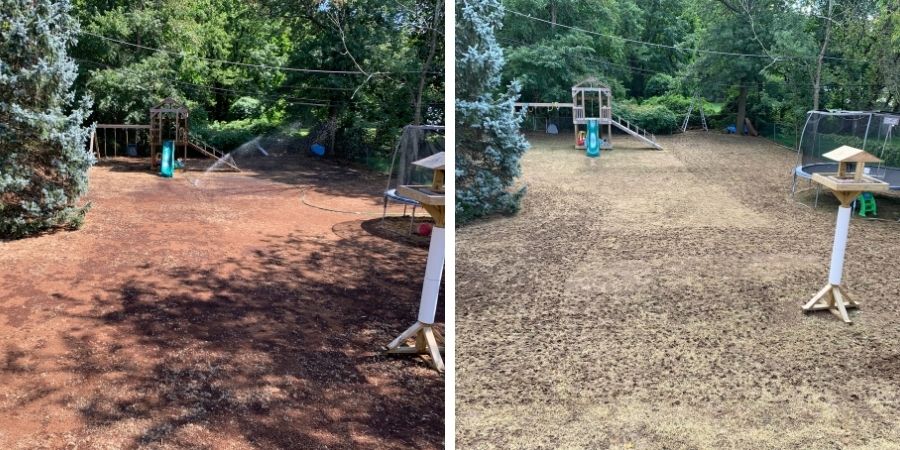 Matthew taking lawn care into his own hands during his renovation.
Learn these lawncare tasks and you'll quickly go from a lawn care beginner to an expert.
Lawn Detective Work
Part of your lawncare apprenticeship is to be able to identify problems, which can include issues caused by weather, heavy traffic, dogs, pests, and diseases. It's a learn-as-you-go education. With any apprenticeship, you're not going to know everything on day one.
Keep a Lawn Care Schedule, Take Notes
On your journey to becoming a seasoned lawncare homeowner, it's good to keep an annual lawn care schedule. Keep a notebook and pen in your garage or shed. It will help you both remember what you've already done, as well as provide a place for notes. Jot down any diseases or pests, or other problems you've encountered or treated and when. It will be something to look for next year at the same time.
A fertilization schedule can be particularly important in communities with fertilization ordinances. You'd hate to miss an application by only a couple weeks! Check local ordinances for fertilizer blackout dates.
One of the first things Matthew did was created a map of his yard. This could come in handy to keep track of lawn maintenance that has been or needs to be done, as well as problem areas.
Get Your Soil Tested
A soil test will provide a wealth of important information that will help you create healthy soil. You don't have to do it yourself. I don't recommend store-bought soil test kits, because they aren't very accurate. Instead, contact your local university extension service about soil testing services they offer. They'll walk you through the process of collecting samples.
The soil analysis will indicate the composition of the soil, whether your lawn needs more or less nitrogen and if other amendments are needed, among other useful information.
Watering During Average and Drought Conditions
Your lawn will benefit from being watered deeply and infrequently. Frequent, light watering can damage lawns by encouraging shallow root growth.
Lawns need about an inch of water every week. Keep an eye on how much rain has fallen and irrigate to make up the difference.