Revive Your Summer Landscape
- horticulturist and gardening expert
August 4, 2018
What a summer. Record temperatures across the country and around the world have left many of us frustrated with our gardens. It seemed like any day I had time to garden it was either pouring rain or nearly 100 degrees. And although I worked in the heat I was much slower and my plants were more stressed.
Many gardeners have shared their frustrations and thoughts of giving up for the year. I feel your pain but don't give up yet. One reason I love working with gardeners is that you are the most optimistic people I know.
So here are a few things you can do to finish off the summer and prepare for a big finish this fall.
Purchase some large flowering annuals from your local garden center. These are perfect for replacing heat stressed annuals and adding instant color to garden beds and containers. Many garden centers carry larger annuals for just this purpose.
Or sink a few hanging baskets into the ground to create an instant garden. The surrounding soil helps insulate the roots so you will need to water less often. Or set them on an old chair, leaky birdbath or plant support to allow the flowers to cascade to the ground as you add vertical interest to your planting beds.
Include annuals that will bloom throughout the fall. As temperatures drop the garden center is filled with cool weather annuals. Many provide nectar for late season pollinators. Hardy pansies are a great addition to the fall garden and make an excellent winter flower in warmer regions. Some of the hardier varieties survive even in zone 4 winters and return in spring.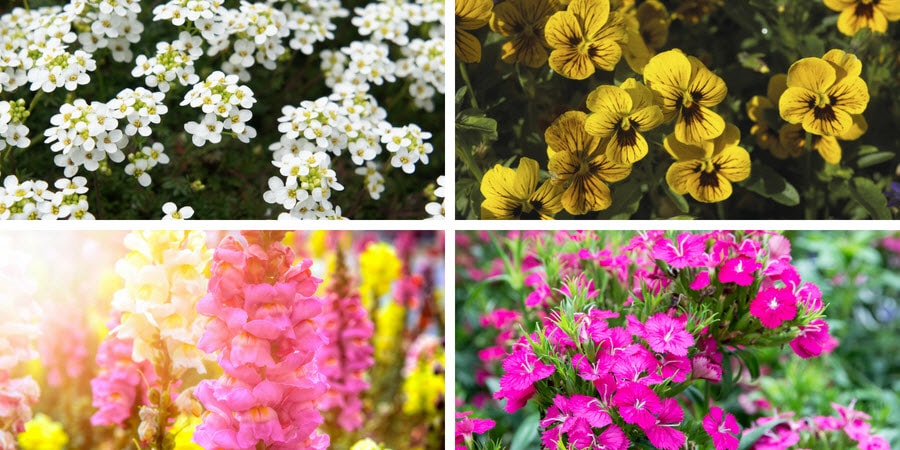 (Image: (top/left sweet alyssum, pansies, bottom/left snapdragons and dianthus)
Dianthus, stock, snapdragons and sweet alyssum also thrive in the cooler fall weather. Add these to containers or use them to fill any remaining voids in the garden. Get these late plantings off to a good start with Milorganite. One application of this slow release fertilizer will provide all the nutrients your plants need to thrive throughout the remainder of the growing season.
Move one of your planters into the garden. It showcases your container, provides additional vertical interest and helps freshen up a struggling garden. Or create new containers specifically for this purpose. Elevate container gardens growing in decorative pots so both the container and plants add beauty to the garden.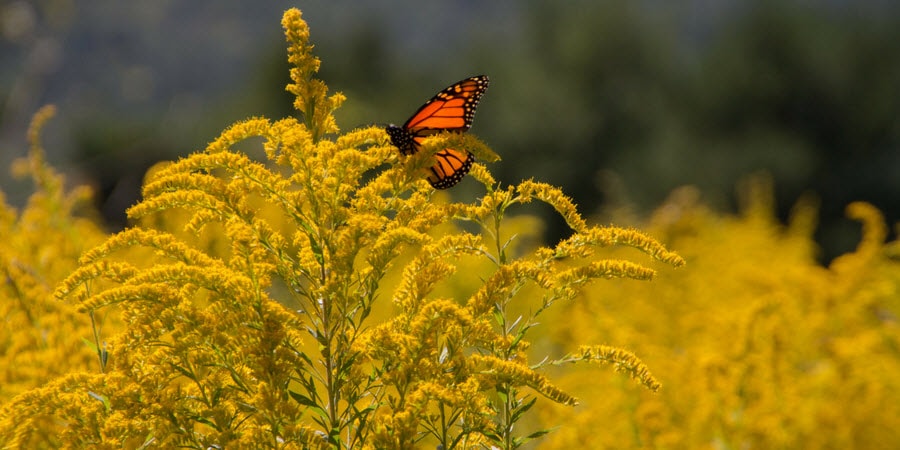 (Image: Goldenrod and Monarch Butterfly)
Plant perennial flowers for multiple years of beauty. Consider those with several seasons of beauty and nice foliage all season long. Look for features like long bloom time, attractive seedpods, and fall color. Walker's Low catmint, threadleaf coreopsis, and Rozanne geranium are a few examples of long blooming, low maintenance plants. End the growing season with flowers like goldenrod, mums, and asters or colorful fall foliage from perennial geraniums, hosta and amsonia. Include some ornamental grasses such as Northwind and Shenandoah switchgrass, Karl Forester Feather reed grass and prairie dropseed that add motion and texture to the garden all year round.
Dress up the garden with a few decorative squash and pumpkins. Just set them in the garden among perennials and flowers. They'll cover those problem areas and no one has to know, but you. Be sure to add them to the compost pile at the end of the season if you do not want your garden filled with squash and pumpkin plants next year.
Include trees and shrubs to provide year round structure in the garden. Look for those with colorful or interesting bark like red twig dogwoods, crape myrtle and Heptacodium that provide year-round interest. Look for flowering shrubs like viburnums, St John's wort, summersweet, hydrangeas and repeat blooming lilacs.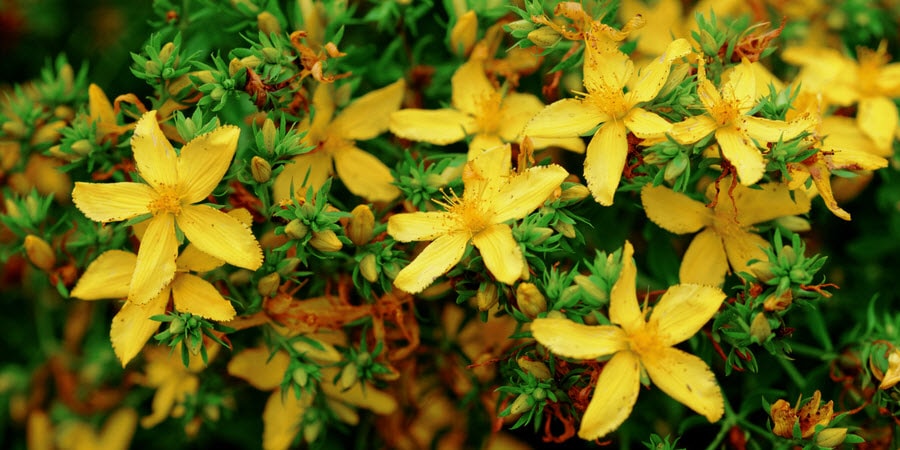 (Image: St John's wort shrub)
Set the fall landscape ablaze with chokeberries, witchhazel, and maples. And brighten up the winter landscape with the colorful fruit of holly, winterberry, crabapples, and hawthorns. Include plants like Harry Lauder's walking stick, Pagoda dogwood, redbud and weeping trees that provide interesting form all year round.
Always make sure the plants you select are hardy to your region and tolerate the growing conditions in your landscape. Selecting the right plant for the growing conditions means healthier better-looking plants that require less care.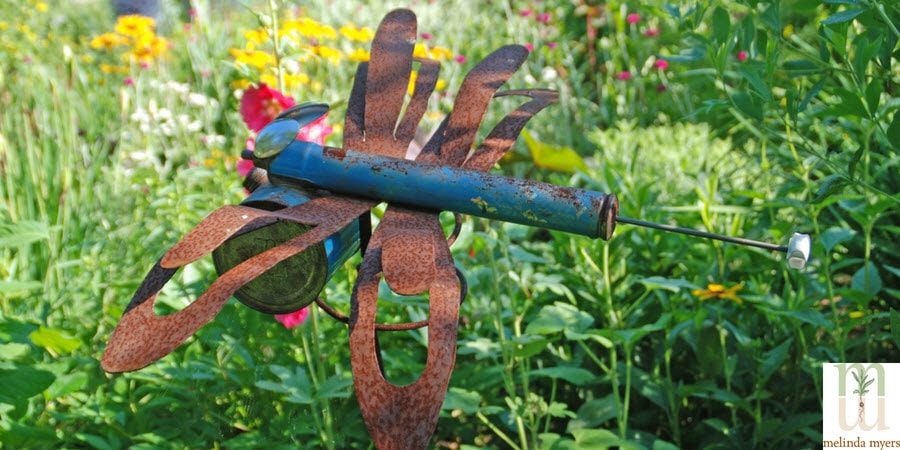 If you still have a few empty spaces consider adding a bit of garden art. A child's wagon, metalwork or old window frame can provide a bit of whimsical beauty to any garden border. Just take a walk through the garage or shed to see if you have any interesting items that can be upcycled into garden art with the help of paint, glue and your imagination.
When you get tired of planting take a bit of time to look through bulb catalogues and bulb company websites. Order your spring flowering bulbs like tulips, daffodils, and hyacinths now for the greatest selection. Those in milder climates will need to purchase pre-cooled bulbs or varieties that require minimal winter chill to flower in the spring.
Just store them in a cool dark place until you are ready to plant.
(Image: tulips and hyacinths)
Wait for the soil to cool to begin planting. This is usually mid to late fall after a hard frost when night temperatures are consistently between 40 and 50 degrees but before the ground freezes. Pre-cooled bulbs get planted in late winter or early spring.
These spring-blooming bulbs will get your landscape off to a beautiful start and provide nectar for early pollinators. Mix them among your perennials to double the floral impact of spring flowering perennials or extend bloom time of summer and fall blooming flowers. You'll also reduce maintenance since the perennials help mask the bulb's declining foliage. Select animal resistant daffodils, hyacinths, squills and grape hyacinths if deer, rabbits, and squirrels have been a problem in the past.
Once your plant additions are in the ground be sure to provide a bit of tender loving care. Water thoroughly whenever the top few inches of soil are crumbly and moist. Spread a layer of shredded leaves, evergreen needles or wood chips over the soil surface to conserve moisture, suppress weeds and keep the roots cool and moist. Keep mulch off the crowns of plants and trunks of trees.